20.09
In June 2019 Nutryfert received the "Food Chain Accesit" award at the SciencEkaitza Gala held in Baluarte, Spain. More than 1,500 participants gathered to attend the second edition of the science competition, organised by the technology company ADItech. The Government of Navarre is participating in this collaboration that rewards the most innovative ideas for transforming society and the economy. It was there that Nutryfert was rewarded for its technology that recycles minerals from organic waste.
The challenge of repurposing organic waste in the circular economy
The EU currently produces more than 90 million organic waste products containing on average at least 20% of the total mineral nutrients consumed as mineral fertilisers in agricultural production. However, only 15% of this waste is used in organic soil enrichers and virtually none of its mineral content can be incorporated into the manufacture of fertiliser granules due to environmental, health and technical constraints.
The circular economy model puts particular emphasis on waste, which is not only a problem to be dealt with but is becoming a new resource. To accompany this change, Nutryfert project director and scientific advisor to TIMAC AGRO and CMI Roullier, José María García-Mina, explained that researchers are developing new technology to transform this waste into a "clean raw material, containing mineral nutrients that can be assimilated by crops and can be used to produce mineral fertiliser granules. "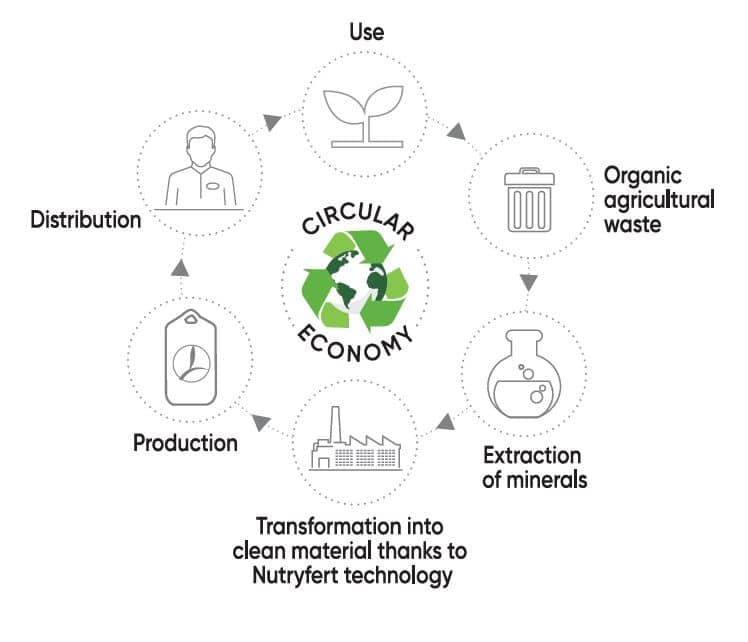 Nutryfert: product of a consortium
The research and development of the technology is performed by scientists from the BACH Group (biological and agricultural chemistry group) of the University of Navarre (UNAV) in partnership with TIMAC AGRO España and CMI Roullier. Field trials will be carried out by INTIA (Navarro Institute for Agri-Food Technologies and Infrastructures). The first results are very encouraging.
"We have been able to identify the genes linked to the best use of certain nutrients such as iron and phosphorus," says Mr. García-Mina.
Together they developed the Nutryert technology, producing new fertilisers by recycling minerals contained in agricultural waste (produced by crops and animals).
By optimising the mineral resources of organic waste, Nutryfert has become part of the ecological transition towards sustainable agriculture.
Marta Fuentes, Ángel Zamarreño, Óscar Urrutia, José María García-Mina and Javier Erro.